Sainte Lucie De Porto Vecchio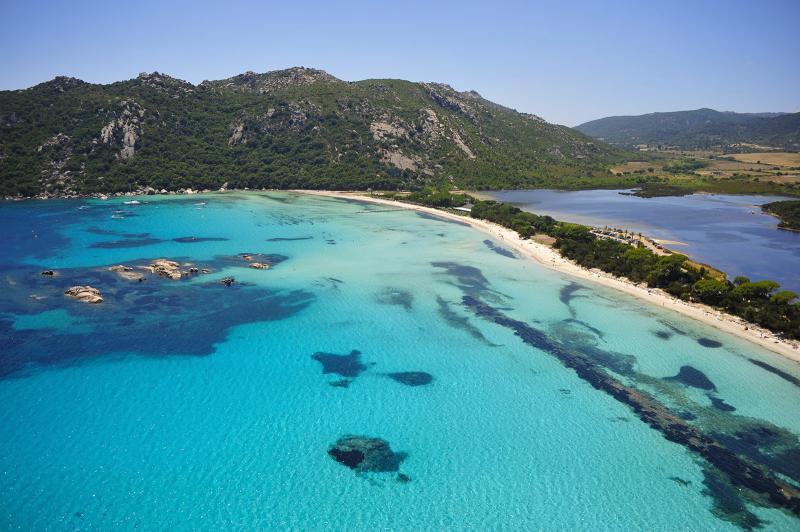 ​
Saint Lucia of Porto-Vecchio, coastal village of the municipality of Zonza. The town offers a wide choice of beaches, hikes and sights. The Genoa tower of Fautea overlooks the beautiful white sand beach of the same name as well as the wild and authentic beach of the Ovu Santu (Olmuccio Beach or American Beach).
The marine village of Pinarellu with its white sandy beach, its port and its nautical center, will also allow you to enjoy one of the most beautiful beach of Corsica, the gulf is bordered by a magnificent pine forest at the end of which stands the Tower of the Isle of Pinarellu
Inside, along the river Cavu, the famous natural pools are a magic site for swimming and hiking.
Saint Lucia of Porto Vecchio is a privileged commune sea and mountain benefiting from an ideal geographical localization to discover Corsica.
Located in the commune of Zonza, in the heart of the Regional Natural Park of Corsica, the valley of San Martinu is a haven of peace, territory of discovery of a preserved nature. It also offers a multitude of activities, trails on foot or by mountain bike, nature sports, as well as the possibility of dining in the shade of century-old pines.
At the start of the trail along the Cavu, the Adventure Park Tyroliana will satisfy all your desires for adventure and thrills. Children from 3 years old or experienced sportsmen, make a sport stop in this idyllic setting halfway between sea and mountain.
A little further, you will have the possibility to refresh yourself or to restore in the snack the 3 swimming pools, magnificent building in old stones.
The River Cavu, with sometimes powerful floods as was the case in November 1993, is a place very appreciated for its beauty as well as its ease of access. The river Cavu has magnificent places: it offers surprising natural vases, renowned for their calm and beauty. However, due to the cases of Bilharziose detected on persons who have bathed in the Cavu river, a prefectural decree dated 16 June 2014 prohibits any skin contact by bathing or by partial immersion on the Cavu river, which Concerns the Communes of Conca and Zonza. This ban may be lifted on the proposal of the Regional Health Agency of Corsica.
To reach this little paradise, head towards Taglio Rosso in the village of Saint Lucia in Porto Vecchio. Pass the adventure park and enjoy the calm of the mountain. Parking is available for everyone.
A paradise for walkers and mountain bikers, the many trails around the Cavu River are for you! At the turn of a path, you will perhaps even cross the famous mouflon, emblematic of Corsica ....
The Atelier des Créateurs offers objects of decoration in natural materials of the island. Their main raw material is driftwood: polished by sea water, rejected on the coast and then picked up and worked, this wood is offered a second life.
Welcome to a world where each creation, entirely done by hand, is a work of art. In the small shop of Saint Lucia in Porto-Vecchio, we do not know where to head ... from candlesticks to mirrors to lamps, photo holders and many others, Objects of decoration unique for all budgets (from 5 €)